08-19-2016, 08:18 PM (This post was last modified: 08-29-2016, 08:05 PM by Florida Fish Hunter.)
Here is my intro to yakbuddies and its members:
I am a recently retired heavy jet aircraft mechanic for one of the major airlines. As a child I was a saltwater fishing enthusiast while growing up into my twenties in Connecticut. Then college and the start of a new family came along that included a move to the central Midwest which put all that on hold, that is, until now... I recently moved here to Florida from Oklahoma in (2015) leaving behind all my closest friends due to a desperate desire to leave the cold winters behind and return to the east coast and continue where I left off as a young man. While I was settling in to my new surroundings I started seeing a lot of fishing kayaks on top of vehicles and pickup trucks.
So I googled it and searched on youtube and a whole new world of fishing flashed before my eyes! Having just recently retired, I thought how great this all can be but... I don't really know the area, and have no friends here to share in the enjoyment and experience of just plain old fishing, let alone kayak fishing!
I'm currently in search of an offshore fishing kayak. At the moment I'm leaning towards the hobie pro angler but feel that I should at least wait and go kayaking first before making a large investment like that.
I'm hoping to make new fishing friends here and get started on my kayaking adventure!
Late last year, to keep myself motivated and entertained, I purchased a SunDolphin Bali-10 from Walmart that was on sale but just did not feel very secure in that rig when I sat in it so I felt justified to return it to the store.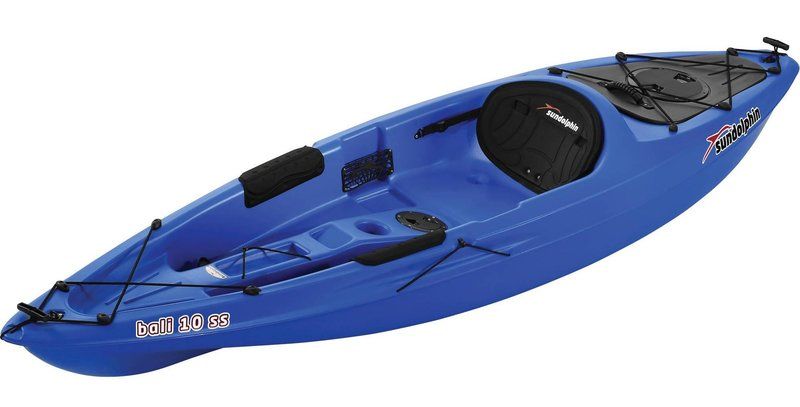 Then along comes a Wavewalk 300 that I found while surfing craigslist. I've never seen anything like it before so I did a little bit of research on it and enjoyed reading the reviews of how stable it is. Needless to say, I purchased that craigslist find which is now my current fishing kayak. I was wanting something stable and comfortable for my first kayak. This kayak fit the bill to get me started and I was happy with everything that came with it for the price such as pfd, 3 rod holders, milk crate, anchor setup, an anchor pole, long paddle and aftermarket extendable stabilizers. This should be a perfect kayak to start out with for lagoons and lakes. I'm hoping to start upgrading and modding this kayak soon and get it ready for fishing again someday, hopefully in the fall when the daytime temps are not so hot... 
Below is a picture of my W300
(reminds me of a german U boat)
.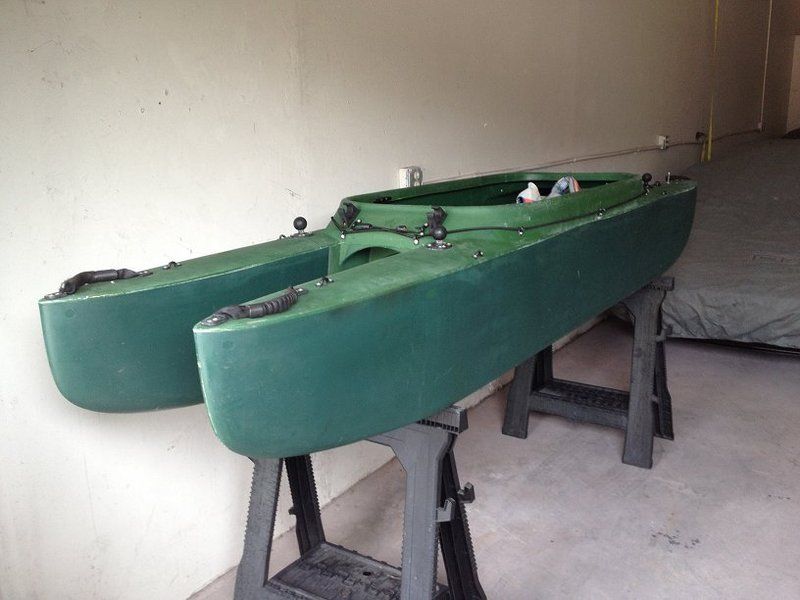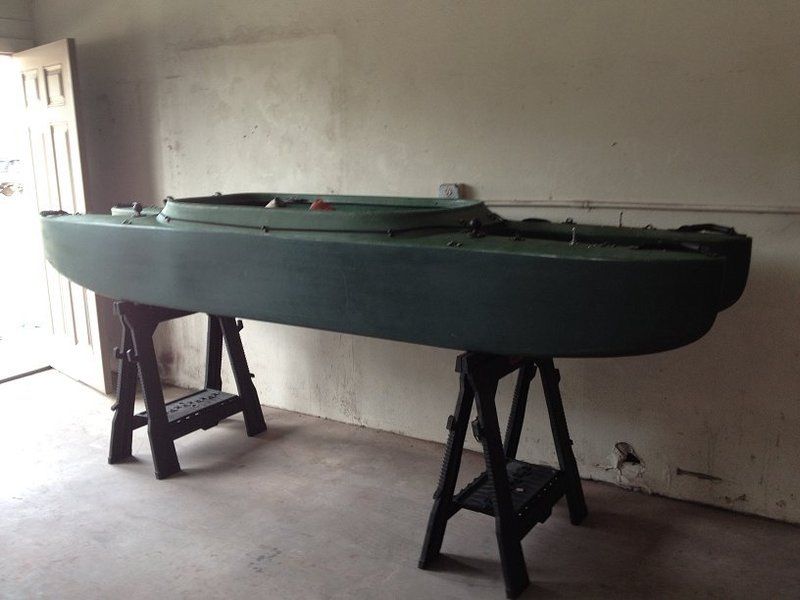 2008 WaveWalk - W300 Series Features:
Dimensions:
Total Length:
10' 4" (315 cm)
Total Width:
25" (63.5 cm)
Total Height:
18" (46 cm)
Weight:
56 lb (25.5 kg) without accessories
Storage Space:
10 cubic ft (283 L)
Maximum Recommended Load:
300 lb (136 kg)